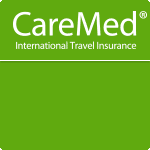 All participants are expected to take the right travel/medical insurance for their stay abroad.
In the case that you need medical treatment while abroad, you would directly bear the costs for the moment, but the travel/medical insurance would ensure that you get covered for it (depending on the policy, you may have to make a part of the payment), when you provide evidence to the insurance company.

Things to be noted while applying for insurance:

• That the insurance is valid for the type of stay (Volunteering, Internships, etc.)
• That in case of a medical emergency, a return to your country will be covered
We recommend CareMed Travel Insurance which is specifically for participants of internships, volunteering, language study, Working Holiday, course participation abroad, etc. It is available for travelers of all nationalities and usable for all countries except your home country.
Simply click on the green banner above and complete the form in a few steps; you will then get a confirmation email. You will also receive login information, in case you need to access the details while abroad.
In addition to a travel/health insurance, as an Extra you can also opt for a Liability Insurance. This is in case you accidentally inflict harm on someone in your host country and must pay for it. Many universities/colleges expect (in internship agreements) that internship organizations abroad have such liability insurance for their interns, but this is not the case in most countries in the less developed part of the world! For this reason, you must ensure that you have a liability insurance in place.